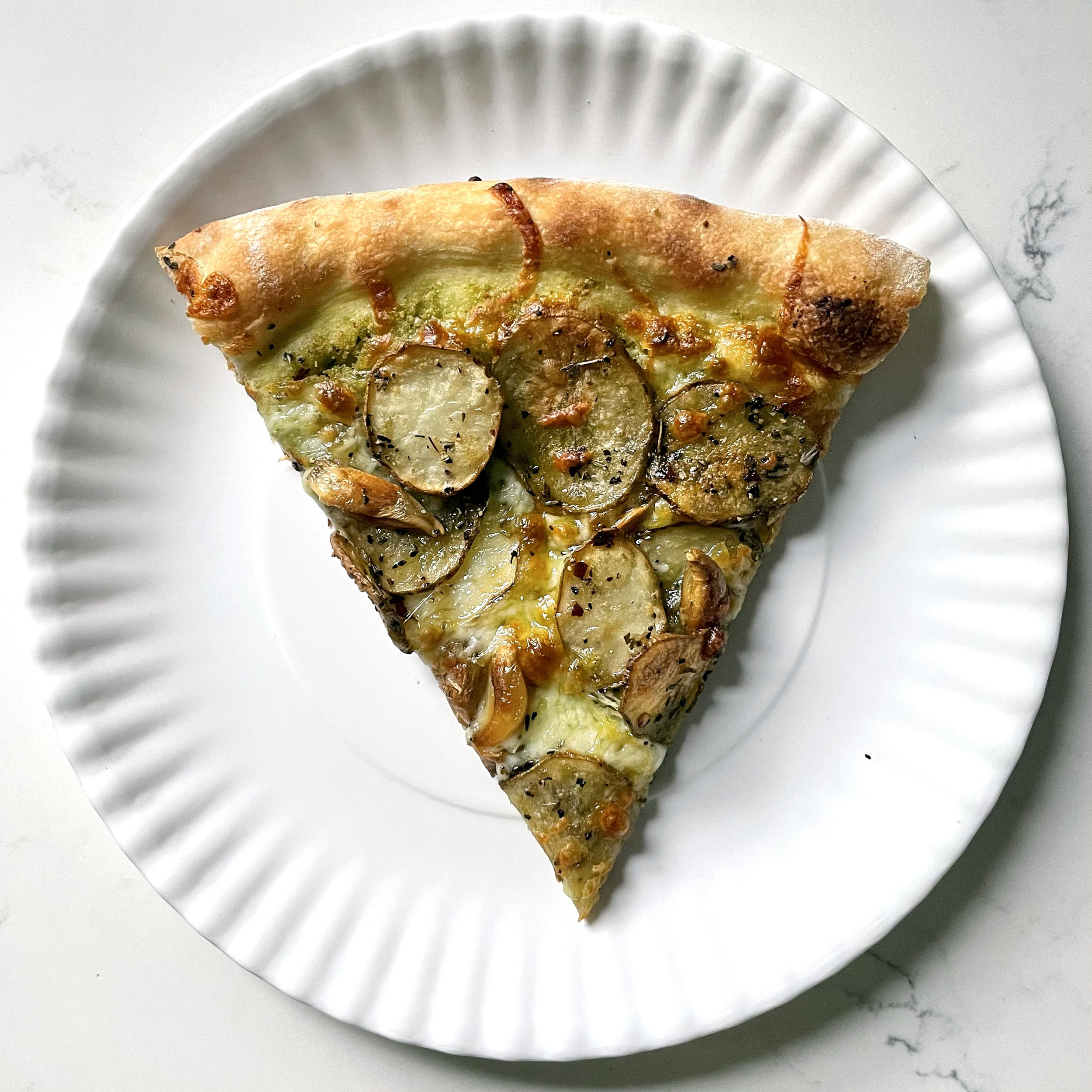 Print Recipe
You Say Potato
Roasted Potatoes and Roasted Garlic go perfectly with Pesto in this classic Escape From New York Pizza.
Ingredients
2-3 Small to Medium Russet Potatoes, thinly sliced

10-15 Cloves of Garlic, whole but peeled

Olive Oil

Dried Thyme, to taste

Dried Oregano, to taste

Salt, to taste

Pepper, to taste

Crushed Red Pepper Flakes, optional

1 Prepared Pizza Dough

1/2-1/3 cup Fresh Pesto

Large Handful of Mozzarella Cheese, shredded

Flour, for dusting
Instructions
1
Preheat oven to 375 degrees. Place a pizza stone on the lower middle rack.
2
Thinly Slice the potatoes and peel the garlic cloves.
3
Toss the potato slices, garlic, olive oil, thyme, oregano, salt, pepper and red pepper flakes in a bowl, coating each potato with the seasoning and olive oil.
4
Spread the potatoes and garlic in a single layer on a sheet tray and bake for 25-30 minutes, until the potatoes and garlic are golden.
5
Meanwhile, take out the dough and let it come to room temperature.
6
Remove the potatoes and garlic from the oven and turn up the temperature to 450 degrees.
7
Separate the garlic from the potatoes and set up your pizza station with the cheese, potatoes, garlic, and pesto [with a pastry brush].
8
On a lightly floured pizza peel, coat the dough with a dusting of flour.
9
Form the crust by using your finger tips to press the dough down about 1/2" from the edge of the dough, while using your left hand to cup the outer edge of the dough as you go around the dough.
10
Then, with the palm of your hands, press down and flatten the whole center of the dough. Pick up the flattened dough and place the top side on the back of your left hand. With both hands under the dough, gently stretch the dough with the backs of your hands. Move your hands around as you stretch, to stretch it evenly. While you have the dough on the back of your hands, use one of your hands to spread more flour on the peel. Then, flip the dough back on to the peel.
11
Use a pastry brush to spread the pesto evenly over the center. Then top with the mozzarella. Then, evenly place the potatoes over the cheese. Finish with the roasted garlic.
12
Bake the pizza for 10-15 minutes or until the crust is golden and the cheese is bubbly and browning.