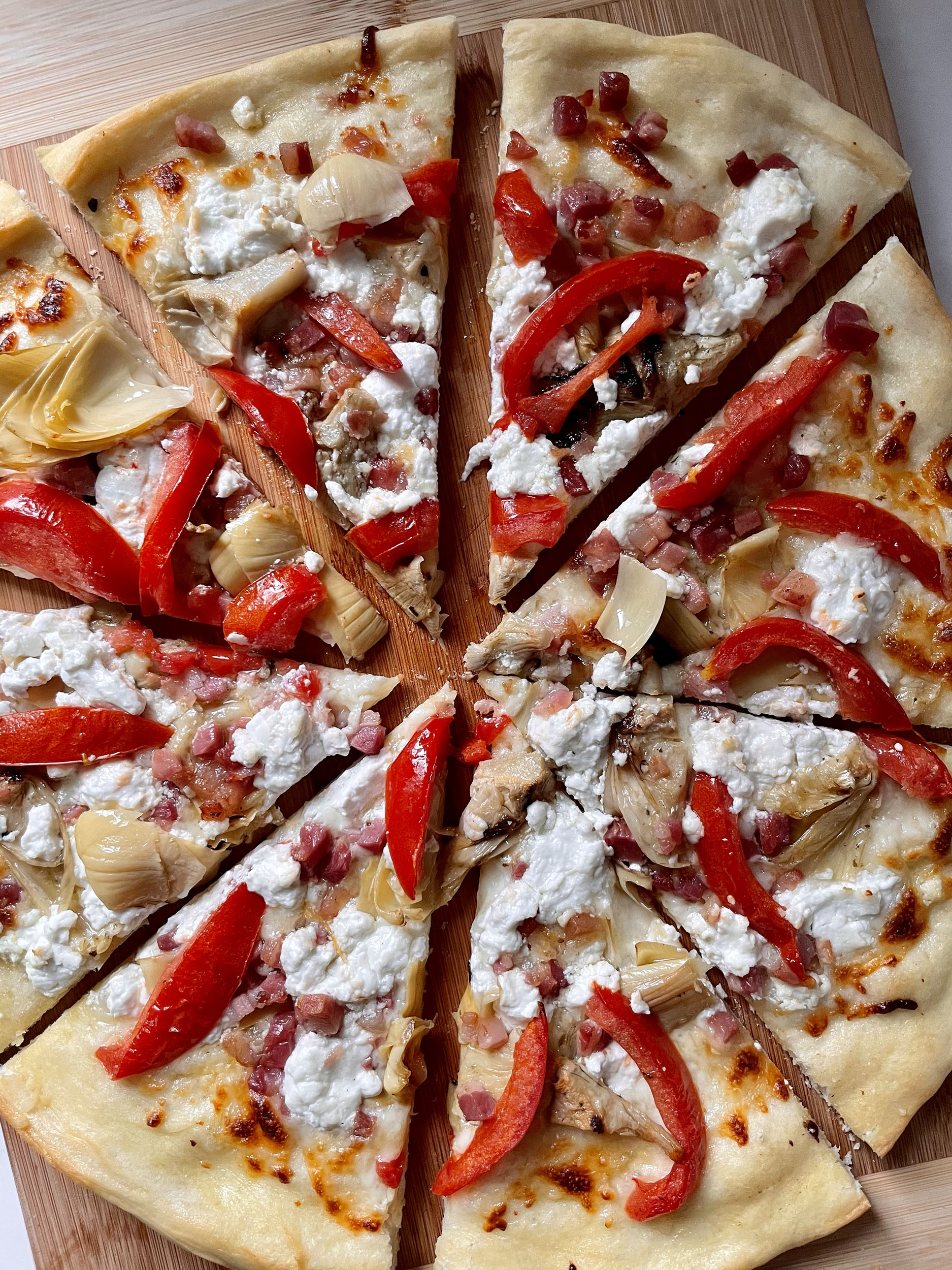 Print Recipe
Artichoke and Chèvre Pizza
This pizza has a ton of rich flavor thanks to marinated grilled artichokes and dollops of creamy goat cheese. A little bit of browned pancetta tossed in for a delicious bacon flavor and a crunchy, chewy texture. Thick slices of fresh tomato give it such beautiful color.
Ingredients
1 Prepared Pizza Dough

3 Garlic Cloves, minced

3 tbsp. Olive Oil

1/2 cup Shredded Mozzarella

8-10 Marinated Artichoke Hearts

4 oz. Pancetta, diced and browned

1/2 cup Chèvre (goat cheese)

1 Tomato, seeds removed, sliced in 1/4 inch strips
Instructions
1
Preheat oven to 450 degrees.
2
Mix the minced garlic with the olive oil and set aside.
3
On a lightly floured surface stretch or roll the dough out to a roughly 12" circle.
4
Brush the garlic olive oil over the dough and sprinkle with shredded mozzarella.
5
Evenly scatter the artichoke hearts over the mozzarella. You can break apart the artichoke hearts a little as you place them on the pie.
6
Follow the artichoke hearts with the pancetta and then the chèvre and finally, the tomato slices.
7
Bake the pie for about 15 minutes and when it the crust is golden and the cheese has golden brown spots and is bubbly.
8
Brush the baked crust with more of the garlic olive oil, slice and serve.