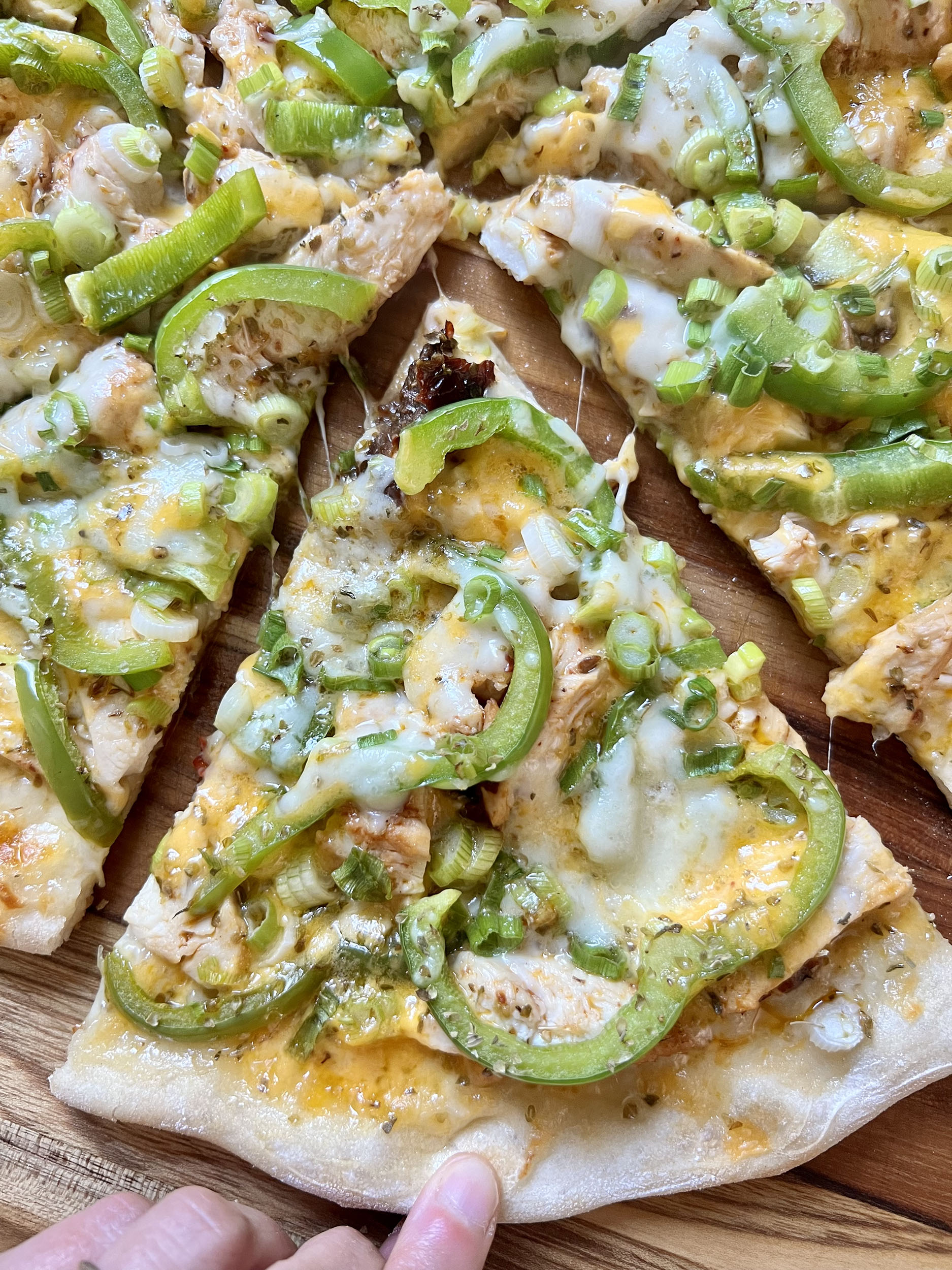 Print Recipe
Chipotle Chicken Pizza
This Chipotle Chicken Pizza features roasted spicy chipotle chicken with green bell pepper, cheddar, scallions and oregano. Spicy and fresh.
Ingredients
2 lbs. Boneless, Skinless Chicken Breast Strips

1 tbsp. Olive Oil

1 tbsp. Chipotle Peppers in Adobo Sauce (peppers sliced, or mashed in sauce)

Juice of 1 Lime

Kosher Salt, to taste

1 prepared Pizza Dough

1 cup Grated Mozzarella Cheese

1/2 cup Grated Sharp Cheddar Cheese

1 Green Bell Pepper, sliced thin

2-3 Scallions, sliced thin

Sprinkling of Dried Oregano
Instructions
1
Place the chicken strips in a large bowl.
2
Add olive oil to bowl with chicken. Add chipotle peppers and sauce to the chicken and stir to coat the chicken in the chipotle and adobo sauce.
3
Add the juice of 1 lime and a pinch of kosher salt. Stir to combine and set aside.
4
Preheat the oven to 400 degrees.
5
When the oven is at temp, spread the chicken strips out in a single layer on a sheet tray and sprinkle with a few more pinches of kosher salt. Bake for 15-20 minutes, until the internal temperature reads 165 degrees F on an instant read thermometer.
6
Let the chicken strips cool and package up half of them for another use. For the other several strips, slice them into bite size pieces and set aside.
7
Increase the oven temperature to 450 degrees F, with a pizza steel or stone. Let the stone get hot for about 40 minutes.
8
On a lightly floured pizza peel, roll spin, pull or stretch your prepared pizza dough out to about a 12-inch round. For the first layer, top the dough with mozzarella and cheddar cheese.
9
Top the cheese with the bite size chipotle chicken. Top the chicken with bell pepper slices. Then add another sprinkling of cheddar and mozzarella cheese.
10
Top the cheese with a sprinkling of dried oregano and the sliced scallions.
11
Bake the pizza on the stone in the oven for about 10-15 minutes, until the crust is puffed and golden and the cheese is melted and bubbly.