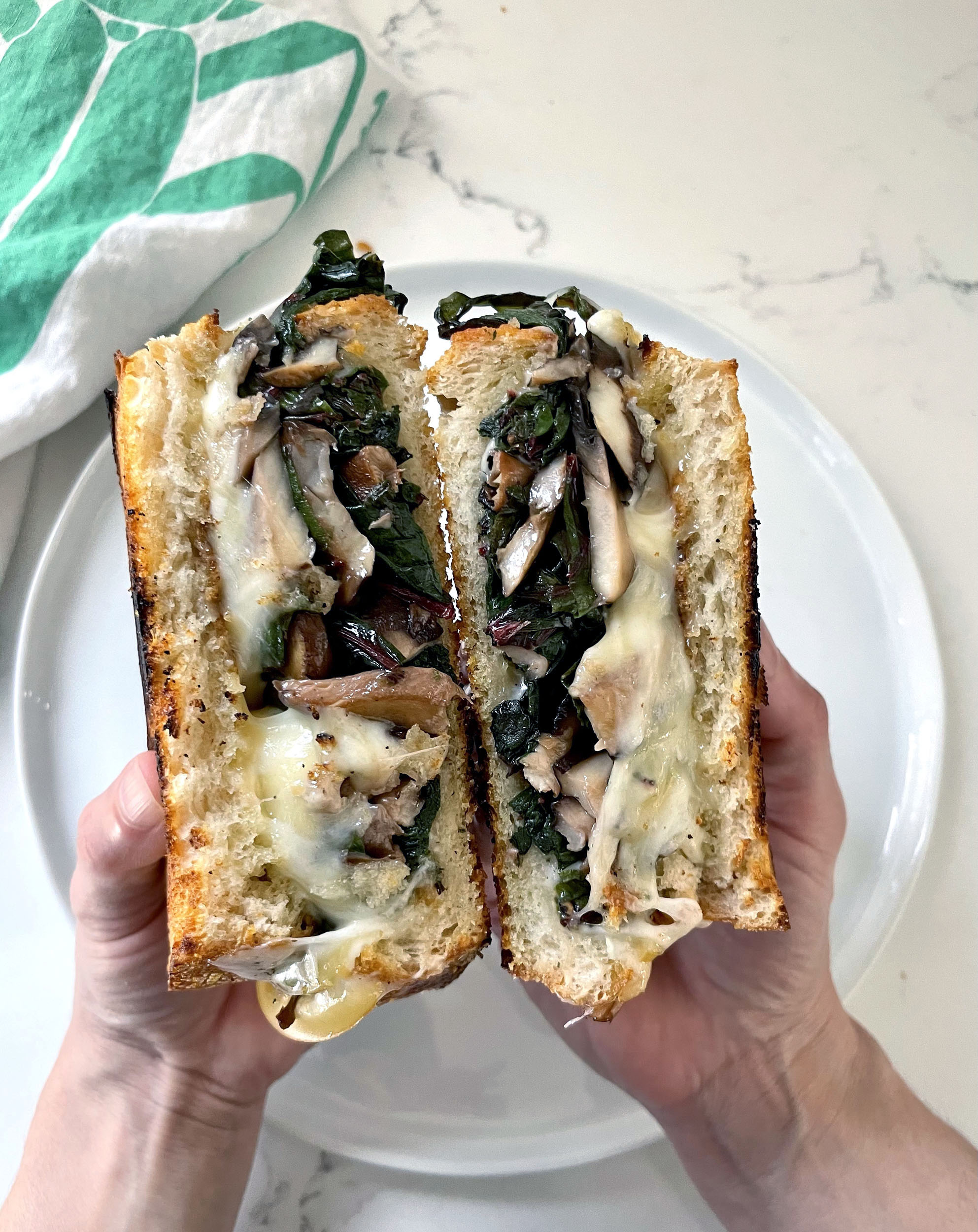 Print Recipe
Mushrooms and Greens Grilled Cheese
Meaty mushrooms and dark leafy greens are sautéd and seasoned, piled high on slices of fried sourdough bread with ooey gooey provolone and smoked gouda cheese.
Ingredients
1 bunch Swiss Chard (or other dark leafy greens), ribs and stems removed, leaves cut into 1" pieces

4 or 6-oz. Portobello Mushrooms, sliced

3 tbsp. Olive Oil, plus more if needed (divided)

Squeeze of Lemon

Kosher Salt and Fresh Cracked Pepper, to taste

2 slices Thick-Cut Sourdough Bread (or other crusty rustic loaf)

4 slices Smoked Gouda, thinly sliced

4 slices Provolone, thinly sliced
Instructions
1
Sauté the mushrooms in one tablespoon of the the olive oil over medium heat until they release their moisture and take on color.
2
Push the mushrooms to one side of the skillet and add the cut greens. Add more olive oil if needed.
3
Stir the greens until slightly wilted and then mix the mushrooms into the wilted greens. Let the greens and mushrooms cook for another minute and remove from heat. Stir in a squeeze of lemon, add Kosher Salt and pepper, then loosely cover.
4
In a separate skillet heat 2 tablespoons of olive oil over medium heat. When the oil is shimmery, lay the two slices of bread in the skillet and reduce the temperature to medium-low.
5
Slightly toast the two bread slices and then flip them over.
6
Lay the cheese in alternating slices on the bread. Reduce temperature to low. Periodically tilt the pan to keep the bread slices in the olive oil.
7
Once the cheese begins to melt and sweat, add two heaping spoon fulls of the mushrooms and greens mixture on each slice of bread and cheese.
8
Check the toasty-ness of the underside of the bread, if it's getting dark turn off the heat. Then, loosely cover the pan for 30 seconds to one minute.
9
Turn off the heat and flip one side of the sandwich on top of the other and transfer to a plate.
10
Press down on the sandwich to squish the filling together, then slice in half.