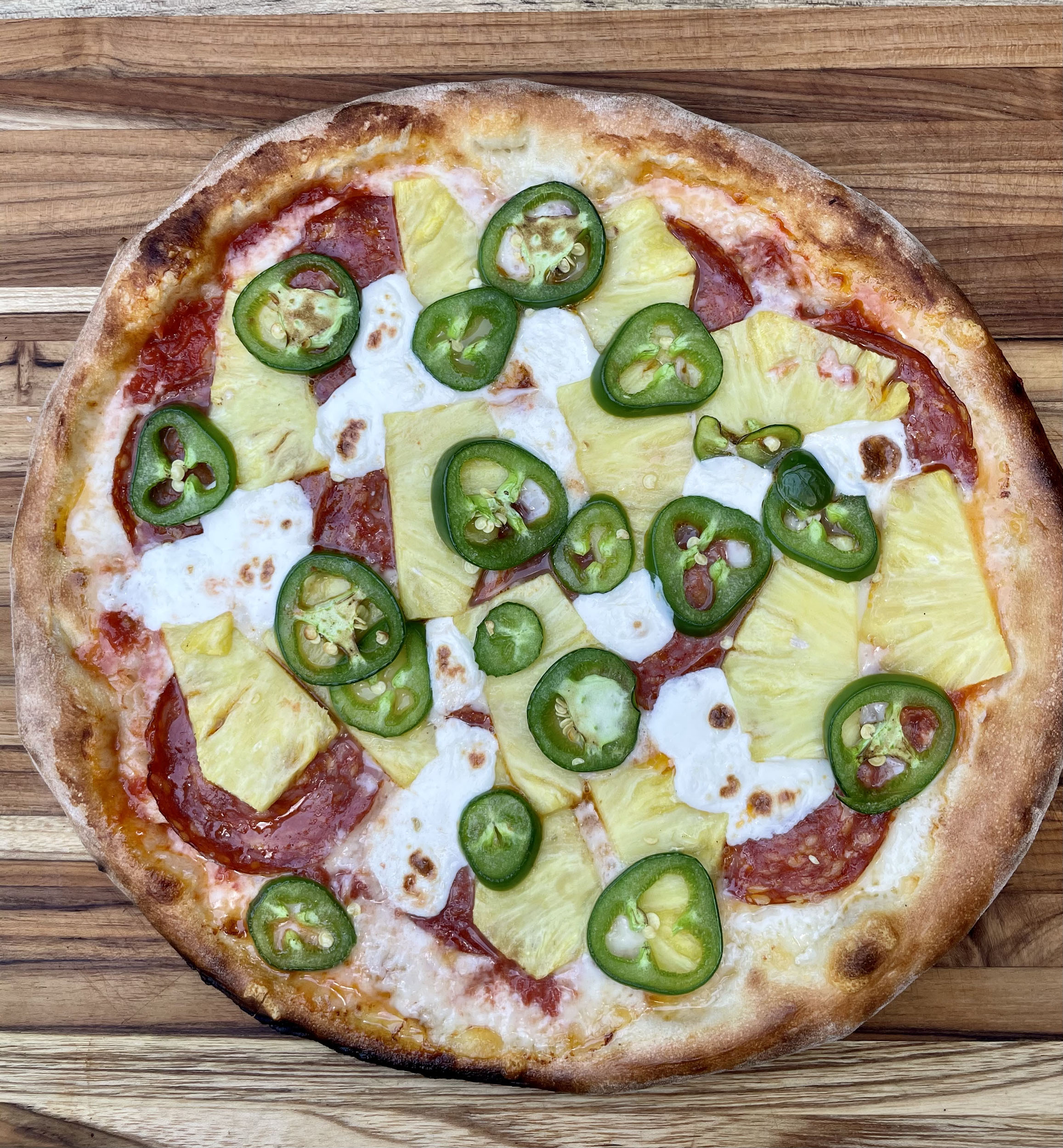 Print Recipe
Pineapple, Calabrese, Jalapeño Pizza
Fresh jalapeños bring crunch, bite and bright green color. Juicy sweetness of pineapple; Calabrese salami and fontina are savory and rich.
Ingredients
1 Prepared Pizza Dough

1/4 cup Crushed San Marzano Tomatoes and their juices

1 cup Grated Fontina Cheese

4-6 oz. Calabrese Salami or Pepperoni

Fresh Mozzarella Pearls

Fresh Pineapple, sliced into thin wedges

1 Large (or 2 small) Fresh Jalapeños, sliced into rounds
Instructions
1
Preheat oven to 450 degrees.
2
On a floured pizza peel, dust the dough with flour and create a crust around the perimeter of the dough and flatten down the center.
3
Stretch it out on the backs of your hands, left hand over right hand, until the dough is roughly 12-inches around.
4
Add more flour evenly on the peel and lay the dough on the peel.
5
Spoon and spread the crushed tomatoes evenly around the dough and add a layer of fontina cheese.
6
Evenly distribute the Calabrese salami over the cheese and sauce – use as much as you like!
7
Place several mozzarella pearls over the Calabrese and evenly place the thin pineapple wedges around the pizza.
8
Top with jalapeño slices.
9
Bake for 15 minutes, or until the crust is golden and the cheese is melted and bubbly.