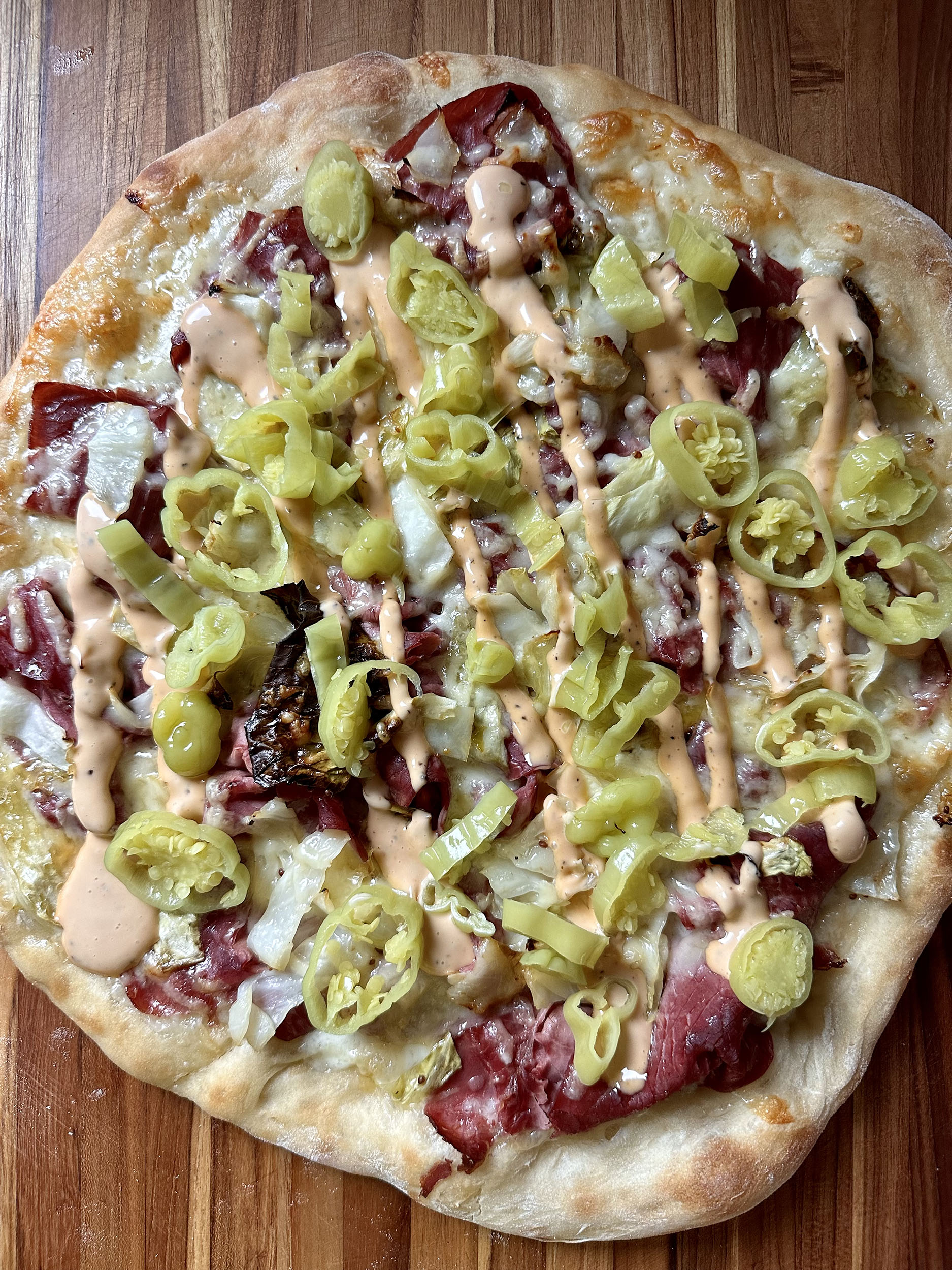 Print Recipe
St. Patrick's Pizza
The classic St. Patrick's Day meal of Corned Beef and Cabbage gets a deli sandwich makeover with secret sauce and pepperoncini peppers.
Ingredients
1 Prepared Pizza Dough

4-6 Provolone Cheese Slices

1/2 lb. Corned Beef, sliced thin

1/2 cup Grated Gruyere Cheese

1 Wedge Skillet Roasted Cabbage, sliced crosswise into thin strips (see links in the post body for recipe)

Marie's Zesty Secret Sauce Dressing

1/2 cup Sliced Pepperoncini Peppers
Instructions
1
Preheat the oven to 425 degrees F with a pizza stone or steel.
2
Roll, spin or stretch your prepared pizza dough to about 12-inches round on a lightly floured pizza peel.
3
lay the slices of provolone on the pizza to cover the bottom, leaving a 1/2-inch border for the crust.
4
Crumple each slice of corned beef and place the individual crumpled pieces on the provolone cheese.
5
Sprinkle a little grated Gruyere on top of the corned beef crumples. Then top with the sliced roasted cabbage. Top the cabbage slices with another 1/4 cup of grated Gruyere and we are ready for the oven!
6
Bake the pizza in the preheated oven for about 15 minutes, until the crust is puffed and golden and the cheese is melted and beginning to brown in spots.
7
When the pizza comes out of the oven, drizzle on the Marie's Zesty Secret Sauce and top with the pepperoncini slices.