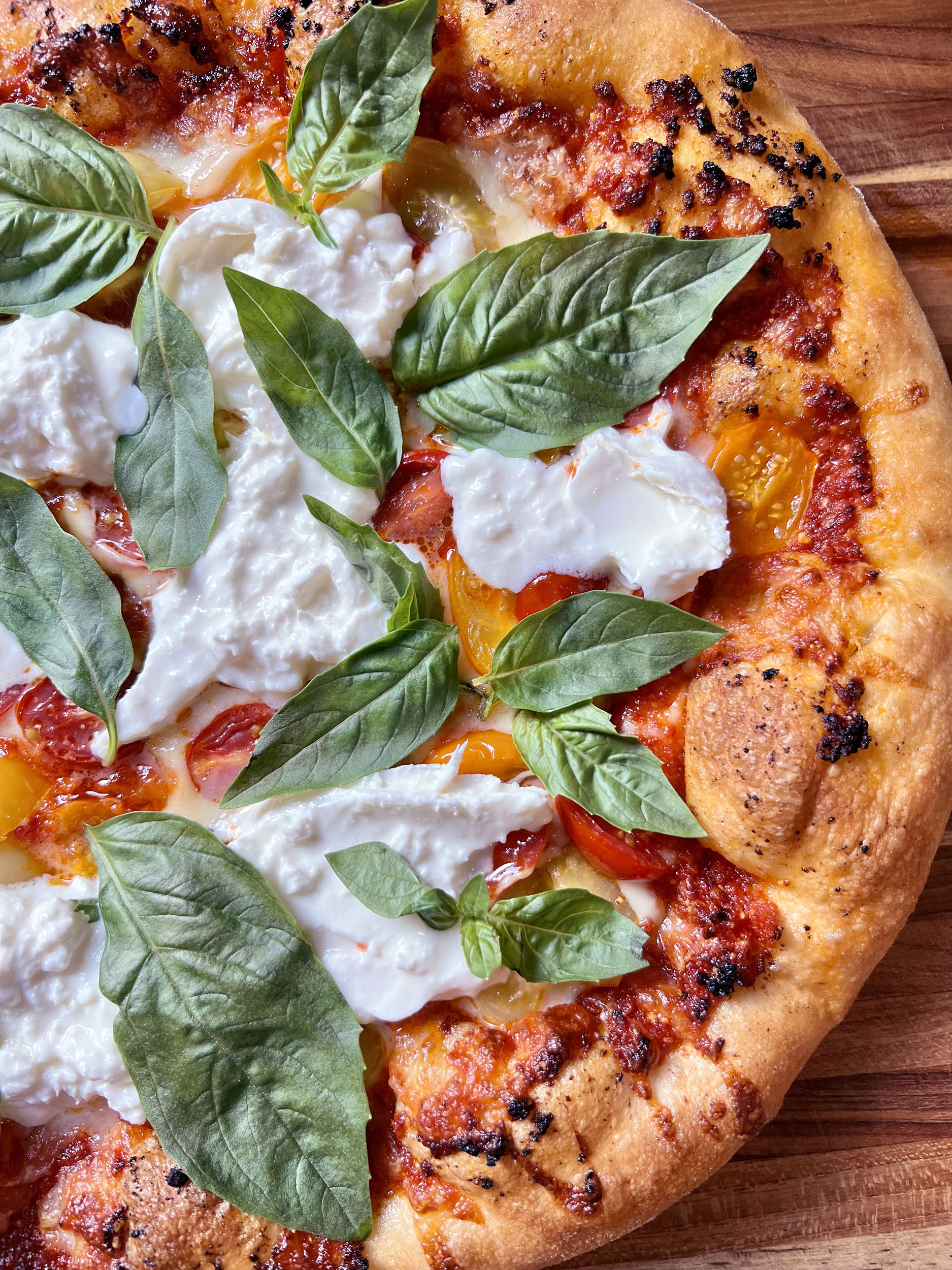 Print Recipe
Super Tomato Pizza
Tomatoes two ways: Super Tomato Pizza is like Pizza Margherita but with more concentrated, tangy tomato flavor and a richer, creamier finish.
Ingredients
Sun Dried Tomato Pesto

2 7-to-8-oz. Jars of Julienned Sun Dried Tomatoes in Oil

1/4 cup Ground Parmesan Cheese

1/4 cup Pine Nuts

Olive Oil

Super Tomato Pizza

1 Prepared Pizza Dough

Sun Dried Tomato Pesto

1.5 cups Grated Mozzarella Cheese

~1-1.5 cups Halved or Quartered Cherry Tomatoes

1 Ball of Burrata

Fresh Basil Leaves
Instructions
1
Pour the entire jar contents of the sun dried tomatoes into the bowl of a food processor. To that, add 1/4 cup of pine nuts and 1/4 cup of ground Parmesan cheese.
2
Process the sun dried tomatoes, cheese and pine nuts until the mixture resembles a thick paste. Then drizzle in olive oil with the processor running until a smoother, looser consistency is reached. Transfer the sun dried tomato pesto to a jar or airtight container.
3
Preheat the oven to 450 degrees F.
4
Roll, spin, or stretch your dough out to about a 12-inch round. Use a flat bottomed spoon or a silicone spatula to carefully spread a layer of the sun dried tomato pesto on the dough, leaving a 1/2-inch border for the crust.
5
Cover the sun dried tomato pesto with grated mozzarella and top with the halved or quartered cherry tomatoes.
6
Bake the pizza for 10-15 minutes, until the crust is puffed and golden and the cheese is melted and bubbly.
7
Use a few paper towels and gently blot the top of the pizza to get rid of the excess oil.
8
Break the burrata up into several pieces, letting the cream inside drip onto the pizza. Distribute the burrata pieces evenly around the top of the pizza.
9
Top the pizza with as many fresh basil leaves as you like.